With the comfort and glam, Indo-western jumpsuits are now the modern wardrobe stapled by every fashionable Indian woman. Jumpsuits are now ruling both the western and ethnic arena with their chic-looking style. Indo-Western jumpsuits are available in various styles. The jumpsuits are suitable for almost every type of body, and with the various collections of such jumpsuits in different fashion stores, you can step forward and choose your ideal one. These jumpsuits are both for petite and fluffy tall physiques, and this outlook will be a wonder to enhance your curves as no other Indian outfits can do.
Indo-western jumpsuits are idyllic for traditional occasions or ceremonies or western cocktail parties. You do not have to scout for what to pair with jumpsuits, and you can pair it with any type of accessories, shoes, jewellery and so on, and this is a good fit for all types of bodies. These ethnic jumpsuits represent the royal culture and heritage of India and are an amalgamation of western elements with ethnic motifs giving women a unique look.
1) High slit jumpsuits –
Image Source: House of Indya
These have intricate designs and have a high slit which makes them elegant for a festive fit. You can add a belt to add new looks to your style definition.
2) Knotted shirt jumpsuits –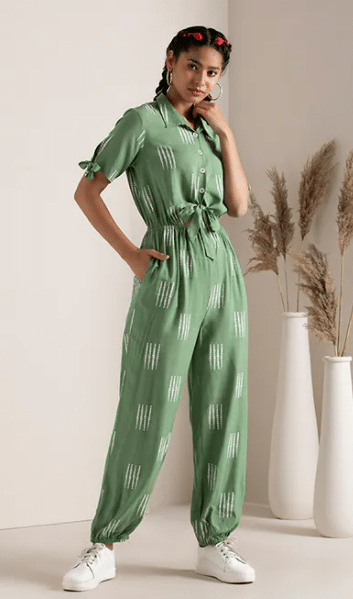 Image Source: House of Indya
The knotted shirt jumpsuits can create a casual look within a few seconds. This has varieties in its collar line, which looks like a formal shirt and creates the illusion of wearing a formal shirt and pants. With its near cut, these are easy-to-pick dressing styles. This also has tie-up detail on the sleeves and a knotted front with breast pockets and tapers down the waistline before flaring down for a wide-legged finish.
3) Blazer jumpsuits –
Make your formal wardrobe attractive with this popular variety of jumpsuits which is both stylish and functional. You can wear them to work or after office parties where you can radiate your personality. These jumpsuits look the best if you pair this with minimal jewellery and pointed stilettos.
4) Cape jumpsuits –
Give yourself a different look with this elegant jumpsuit which can bring out the glamour in you. It is the perfect choice for ladies who can show off this flirtatious style. These jumpsuits have v-necks and are also boat-style necks at times. These jumpsuits are perfect for sophisticated events where you can be in the spotlight with your glamorous aura.
5) Culotte jumpsuits –
This flirty jumpsuit is a unique collection for those ladies who keep it low yet confident when choosing attire. This petite woman looks best in jumpsuits, and these jumpsuits are 2-4 inches below the knee. This can create the illusion of super long legs and looks ideal when it is paired with loafers. You can wear stilettos depending on the print and design of jumpsuits.
6) Denim jumpsuits –
These denim jumpsuits look gorgeous on ladies of all age groups and of all body sizes. This super flattering fabric never fails to camouflage the problem areas and accentuate the best parts. You can choose jumpsuits according to sleeve length, the number of pockets, and even pant length.
7) Flared jumpsuits –
You can jazz up your party looks with this gorgeous collection of jumpsuits. These jumpsuits are of chic style and supreme comfort. These jumpsuits look perfect on every woman, and you can either opt for the fully wide-legged or the fitted ones with flares near the hemline. These jumpsuits will set your fashion sense on fire with your glamour quotient. You can wear gorgeous shoes or sneakers to show your perfection.
8) Overall jumpsuits –
These flattering jumpsuits are perfect for all women and for all body sizes. These have sophisticated designs and can style with crop tops or cotton shirts, and can gracefully show off your style at every single event or a summer party, or movie night. These look versatile as they have subtle prints and are of solid-hued cotton fabrics.
9) Sweatshirt jumpsuits –
Get ready with these cute jumpsuits with these full sleeves, pull zip, and attached hoodie. This is funky wear with a drawstring waist and a simple design with attached side pockets. This jumpsuit is ideal for college and school goers or trekking purposes. This is an ideal choice that looks best in both style and functionality.
10) Wide-legged jumpsuits –
They have split legs, and you can look stylish and give a different definition to your style statement with these wide legs. You can style this with minimal accessories and high heels.
Designers have refreshed the look of jumpsuits in the last few decades to suit the needs and interests of modern women. These jumpsuits are easy to wear, stylish and comfortable, and can be styled in many ways. There are varieties of jumpsuits with varieties of designs, cuts, fashions, with the latest trends and styles. You can pair up jumpsuits with any kind of wear, giving it an ethnic or traditional look or western look or semi-formal look to spruce your style.