After a break of 7 months I am going to try my hands on a new skin care product which is Just Herbs Elixir facial serum. I had stopped applying anything on my face because of lockdown and I could notice the difference in my skin texture. While I was looking to get smooth and soft texture, at the same time I was also looking to get herbal product which wouldn't trigger my skin. I thought of trying out Just Herbs Elixir facial serum as serum not only moisturizes our skin but also nourishes the skin by correcting the skin breakout.  
Looking for a serum that suits your skin type is still a problem. Today I am reviewing the skincare product from an ayurvedic and certified organic skincare brand 'Just Herbs' and this will help you out.
Why Just Herbs Elixir facial serums so popular among us?
'Just Herbs Elixir Facial Serum' is one of 'Just Herbs' best-selling items and has earned a great deal of respect for its possible skincare benefits in the beauty community.
It is one of the most effective Vitamin C serums as well.
Why Herbal face serums more preferable than face creams?
For tired, aging, and pigmented skin, this face serum nourishes and restores a natural glow and youthfulness by penetrating deeply into the skin. The inflammatory changes that occur during the skin aging process are also blocked by this face serum.
Let's look at the packaging:
the outer packaging is quite good, the color and print give a very rich appeal to the product. It is a small pump-type bottle which makes it easy to pump out the desired amount.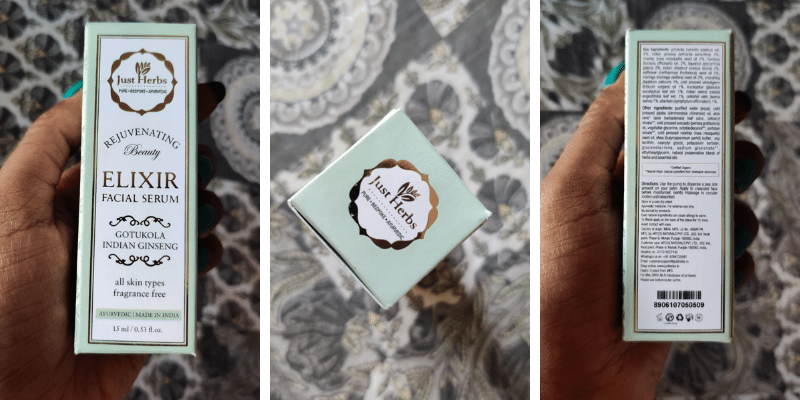 Let's look at the components:
Natural sources of Vitamins A, C, and E are cold-pressed oils from Rosehip, Wheatgerm, Safflower, and Moringa seeds, which distinguish this face serum from other commercially available face serums of Vitamin C.
Indian Senna extracts contained in this face serum are also a botanical alternative to Hyaluronic Acid used in chemically-derived Vitamin C serums (for fine-line filling and intense moisturization).
Licorice root and Nagkesar form a perfect equilibrium that gives this serum lightening, brightening, and skin-nourishing properties.
It has a shelf life of 3 years from the manufacturing date. It suits all types of skin but more effective on oily skin.
Price: Rs 1195 for 15 ml, you can this on amazon for Rs 1075
My take:
It is very lightweight and non-greasy. It absorbs the skin very easily and hydrates the skin throughout the day. The product does not have any added scent, but you can smell the aroma of the ayurvedic ingredients present in it. Made up of natural things contribute to a healthy serum for the skin. Best for dry skin as it moisturizes your skin throughout the day.
If you're looking for a chemical-free serum or a serum for oily, acne-prone, and sensitive skin, you should go for this. It's a blessing.