Parachute advansed coconut crème oil is the newly launched product in the market and it has a tagline "Oiling Re-invented". Parachute, as we all know, is the flagship brand of Marico and it has a range of coconut-based hair products under it. We all remember the blue bottle which we have used to do champi/ oil massage on weekends.
Well, the new line of Parachute is Advansed which stands for care, nurturance, and beauty, and tries to fulfill the needs of its myriad consumers through various offerings in the portfolio spanning hair care. One amazing product from this line is Parachute Advansed Coconut Crème Oil.
About the product:
This is a pre-wash hair nourisher which has the goodness of nourishing coconut oil and light coconut milk. It does have a signature coconut smell in it.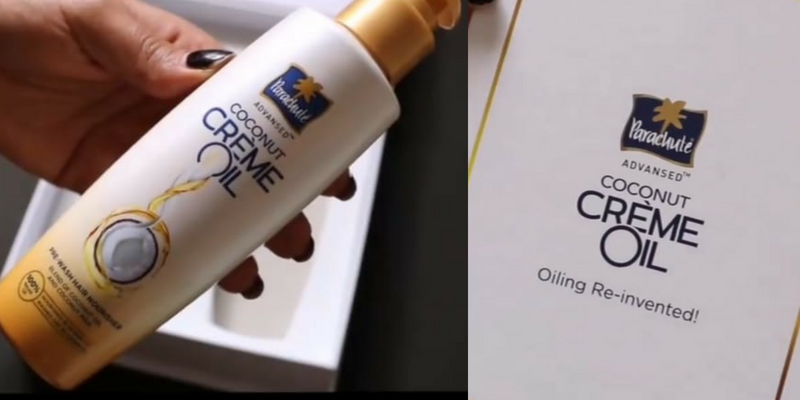 Shop here: https://amzn.to/2ZYd5wD
How to use Parachute Advansed Coconut Crème Oil:
The instruction card on the packaging says that you have to follow 3 simple steps:
Step 1 – Pump out 4 times (for medium length hair). Apply gently on the scalp and then apply through the length
Step 2 – Leave it on for 30 mins.
Step 3 – Wash it off with shampoo and 1 wash is enough
My Take:
The formula is non-sticky and lightweight
It is creamish in color and has a velvety texture to it
Being lightweight formula it absorbs quickly in the scalp and you are free to do any kind of work
It does give wonderful effect on your hair, just 1 wash gives you shiny and nourished hair
It's actually a refined form of oil massage or champi which is non-sticky and easy to use
Rs 120 for 150 ml bottle and the product claims to be of 100% natural oil which contains coconut oil and coconut milk
How different is it from Pantene Pro V oil replacement?
Well, Pantene oil replacement or Garnier oil-n-cream is like leave-in conditioner which helps in settling down the frizz and helps in styling the hair. On the other hand, this product is a pre-wash hair nourisher which is like normal hair oiling method which we do.
Do I recommend it?
Yes, you must try out this product. I have thick and dense hair and Pantene doesn't work on my hair type and this product has given me results.