I am sure you must have seen this brand on Facebook or on Youtube. Social channels are tapped wonderfully by this brand and it has also engaged influencer/YouTubers to do reviews of Wow products and because of this, you will see all positive or good reviews on the internet by this brand.
I bought 2 products from Wow Skin science, one is Wow skin science Ubtan face and body scrub and another one is onion oil. This post is a detailed review of Ubtan scrub so let's begin:
Packaging:
This comes in a tube-like packaging that has brand colors, ingredients images, and the cap of the tube is tight so it prevents spillage. The tube is like your regular tube so nothing fancy about it. It's good
What is contains/ingredients
It has chickpea flour, rose water, almond powder, turmeric and saffron extracts, and sandalwood oil. This scrub is made from traditional natural ingredients known for their exfoliating and skin rejuvenating properties. The brand website says that this scrub assists in removing dead skin, deep-seated dirt and tan, help to moisturize and soften skin leaving your skin velvety smooth and glowing.
It does smell like real ubtan.
How to apply
Take a pinch of this product and apply on your damp face and do like you do with your regular scrub
Price: I bought a sample size, 25 ml for INR 99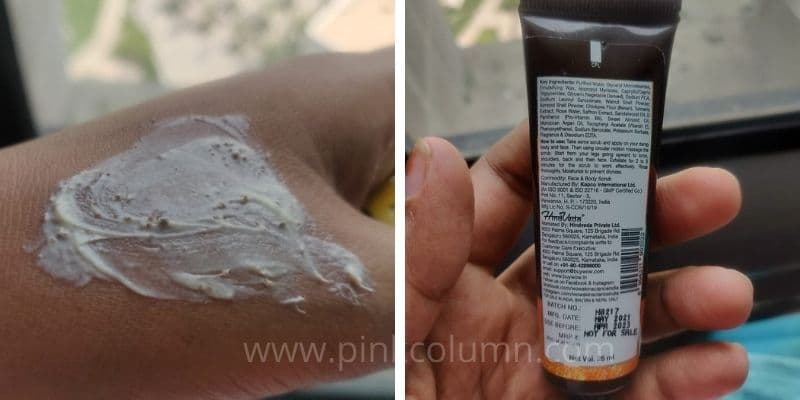 Pros:
It is vegan and paraben free
Smells like real ubtan so you can assume that you are applying real ubtan
compatible, travel friendly size
easy to carry and use
Cons
Scrub particle is too grainy, a little bit more pressure can be really harsh on the skin
I did not find any change in the tan line or glow thing
My take
As per me, I would drop this product and go back to using my Oriflame honey and sugar scrub. I would not prefer to apply grainy things on my face. I do not recommend buying this product.