Post-delivery most women want to go back to their pre-pregnancy shape and they do try a lot of methods to lose the extra weight gained during this beautiful phase. Belly pouch is the major concern which most of the women have and on doing basic research in my friend circle I have got to know that females opt for a post-pregnancy belt to target the belly pouch.
When is the right time to start wearing this belt?
You should give your body at least 30-40 days to rest and heal internally and it is advisable that you should always ask your doctor before starting any workout or diet or wearing post-delivery belt.
Here I am listing top 5 post-pregnancy belt which you can buy online: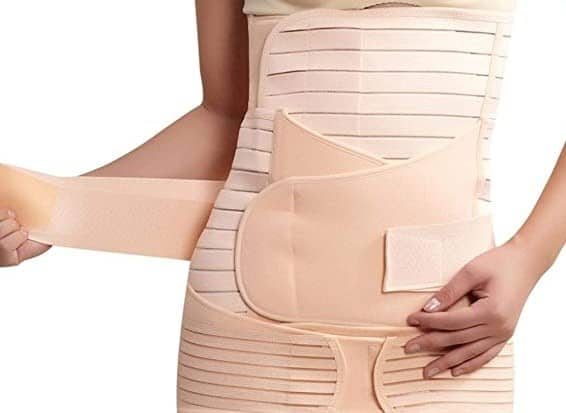 IRIS 3 in 1 Postpartum Belly Wrap: This is a 3 in 1 belly wrap. it has belly belt which supports the belly, 2nd is waist belt which focuses on wait area and 3rd is pelvis belt which supports the pelvis area and improves the posture. Though this one has just 2 reviews if you look at the product description, it looks very convincing to me. Priced at Rs.2499
2. Wonder Care abdominal girdle belt: This has got 52 reviews and the average rating is 3.6 stars. This is designed especially for c-section delivery and helps restore the tone of the abdomen faster. The Velcro closures make the binder easy to put on and take off. Priced at Rs 449
3. Tynor Tummy Trimmer: has 3.8 stars out of 5 and I request you to go through the reviews so that you can order the exact size. Its function and fabric do look promising. Priced at Rs 569
4. Mee Mee Post Natal Magnetic Maternity Support Corset Belt: This one has rated 3.4 stars out of 5 and reviews are shared by 106 customers. This is an adjustable belt for women of all body shapes and sizes. It is designed to be worn discreetly under apparel for enhanced convenience, comfortable, soft, and non-irritating on your skin. Priced at Rs 617
5. Farlin Breathable postnatal reshaping abdominal Girdle Belt: I have checked reviews of this belt on Flipkart as well as on Amazon.in and this one also looks promising. This provides support to the back. It is priced at Rs. 1375. You can have a look at the reviews posted by genuine customers and then make your decision.
Does it really help?
I have received mixed reviews for this answer. Most of the moms have said that this belt has helped them in relieving pain and given support to pelvic muscles. Few have said that they did not notice any difference. It's better to wear it and experience it to make their belly pouch reduce.
---
When you should wear this?
You should not wear this belt while eating or sitting, try to relax your body while having your food. Other than that you can wear it while doing your household work.
Hope this article is helpful to you in finding the right post-pregnancy belt.