Post-delivery I am facing hair fall and it kind of gets on my nerves that very soon I will become bald. As per the doctor, it is because of the change in hormones but I thought of switching my current hair care routine with something ayurvedic so that I won't get any side effects. I have switched to Kesh king's products, by this name you can very well recall the TV commercial featuring Juhi chawla. Kesh King is an age-old and renowned brand that is known for it's complete hair care products related to hair fall. I ordered Kesh king anti-hairfall shampoo, conditioner, ayurvedic oil, and herbal capsule to experience the goodness of this brand from their website
My review is based on 15 days of trying out the products which include hair-fall shampoo, conditioner, and oil. Because of lactation, I did not try out the herbal capsules which are said to enhance hair growth.
How to use the products:
I followed a very basic hair care routine which includes overnight massage using the deep root comb applicator to shampoo using the herbal hair oil, followed by shampoo and conditioner.
About Kesh King Anti-hairfall hair oil:
The packaging is in dark green color and the bottle comes with a deep-root comb applicator which makes the application of hair oil easier on the scalp. The oil is slightly scented and is transparent in color and it has the goodness of 21 ayurvedic ingredients like Bhringraja, Amalaki, Methi, Brahmi, Japa, Lodhra, Manjistha, Jatamansi, etc. This oil is said to be two times more effective than regular hair oil and is helpful in all hair problems like dandruff, premature greying, etc. It is the only oil certified by Anthony Pearce Trichology.
Price: Rs 280 for 300 ml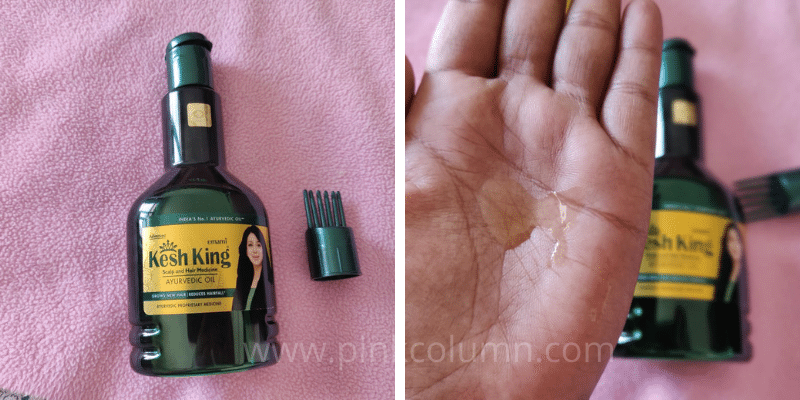 About Kesh King anti-hairfall ayurvedic shampoo:
Kesh King Anti-Hairfall Shampoo is also made up of the same herbal ingredients which are present in the hair oil along with the richness of aloe vera and when you do the massage followed by shampoo you can very well notice the difference in your hair, it leaves your hair silky, shiny, and smooth. It is light green in color and has a mild fragrance
Because it is ayurvedic it won't cause any harm to your hair, you can very well give this product a try. It is recommended to carry the hair regime for at least 3 months to see the impact in controlling hair fall. Brand says that this shampoo has given below benefits:
Makes Hair Silky, Shiny, Smooth
Provides Healthy, Nourished Scalp
Suitable for all hair types and the whole family can use this
FDA Approved, Paraben Free, Cruelty-Free, Free from Harmful Chemicals
Price: Rs 180 for 340 ml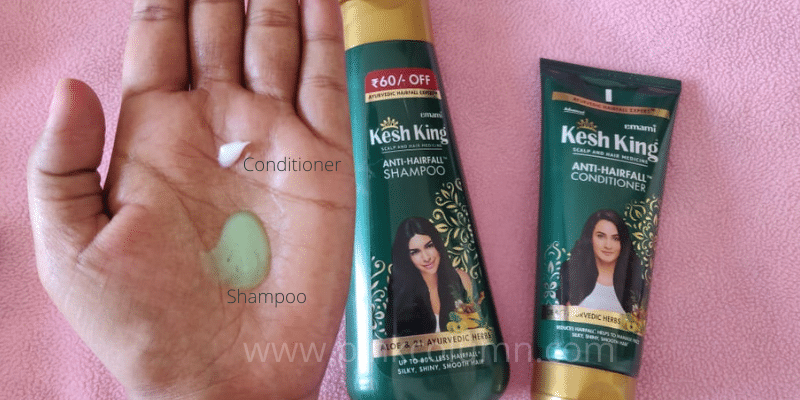 About Kesh King anti-hairfall ayurvedic conditioner:
Like any regular conditioner this also has to be applied after wash. Apply it on the length and left over conditioner can be then applied on the head. This entire regime will help in reducing hair fall and gives you smooth shiny hair.
Price: Rs 90 for 80 ml
My Take:
Like I mentioned before that it's just 15 days of me trying out this product and I can see less strands of hair on my comb. I got to use this product for atleast 3 months to see noticeable change in hair fall. My hairfall is also linked to post partum so along with hair care regime I have also increased my protein intake to overcome this problem.
You can definitely give this product a try, go for a smaller size to try out if you are hesitant, and see how it suits your hair because every hair type is different. See what works for you. You can know more about the brand on its social channels, check Instagram and YouTube.